We are passionate about our craft and will do the job right the first time.
Locally owned and operated, Byars Painting & Drywall Finishing is an interior and exterior painting contractor serving Rives, TN and the surrounding areas. We are focused on dependable painting services and exceptional customer care for all types of residential and light commercial projects.
Call us today!
Byars Painting and Drywall offers professional painting services in Union City, Martin, South Fulton, and the surrounding areas in Obion County and Weakly County
Check Byars Painting & Drywall Finishing in inPAINT Magazine!
FrogTape Multi-Surface Painter's Tape
Based in Rives, TN, Byars Painting & Drywall Finishing's work is primarily residential, with some light commercial as well. For years, owner Monty Byers had been loyal to blue painter's tapes, but had been hearing good things about FrogTape brand........
inPAINT Frog Tape Article
Painters and Pressure Washing Services
Monty Byars, owner of Byars Painting & Drywall Finishing, in Rives, TN, had been power washing for years, but about a year ago he started promoting it as a service on his Facebook Business page. He invested in the BE Whirl-A-Way Surface Cleaner.........
inPAINT Pressure Washing Article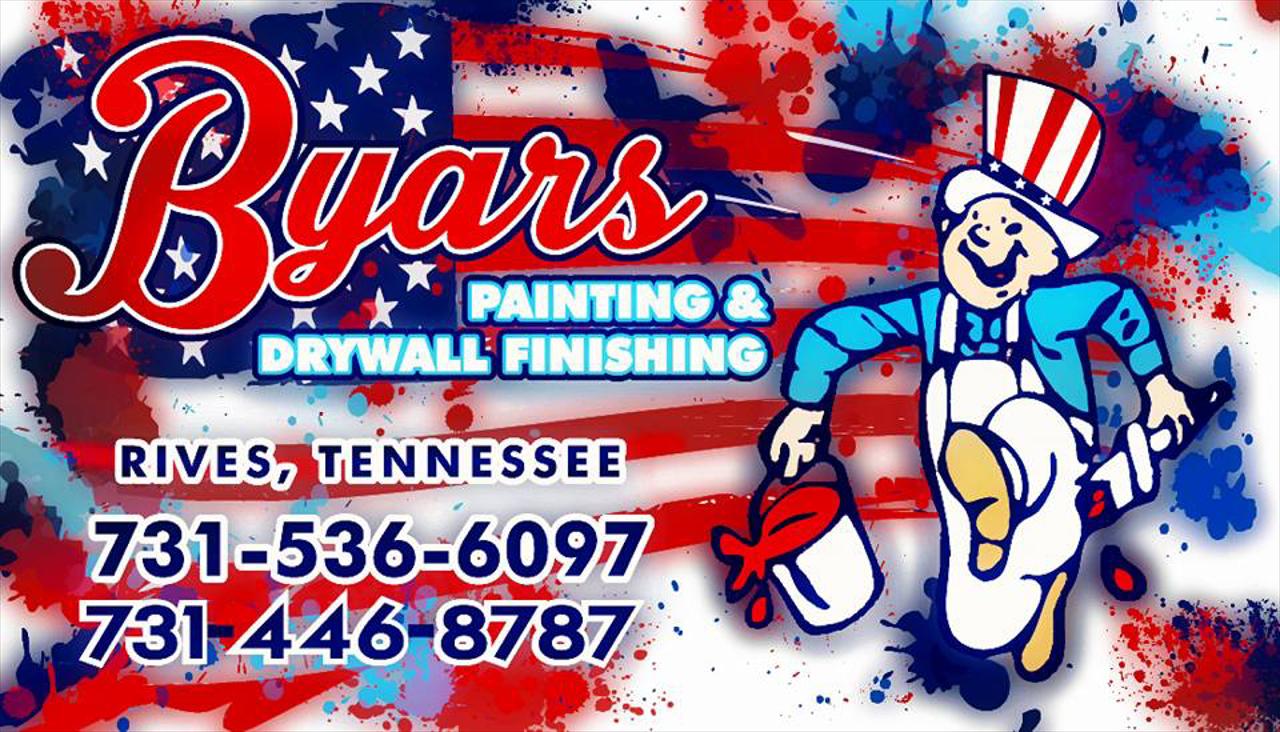 Byars Painting & Drywall Finishing is your trusted local professional painting contractor with over 35 years of personal experience and 125 years of combined family residential and commercial painting experience. We are locally owned and operated are proud to provide only quality painting and exceptional customer service. Our goal is for each customer to be 100% satisfied with every aspect of our work. We work hard to provide comprehensive residential and light commercial painting at a reasonable price.
Our fully licensed and insured professionals ensure your property will not only be protected but will look amazing. We thoroughly and carefully prepare every home and business to protect any furniture and all floors. Before we leave it will be restored back to its original condition, no exceptions. We only use high quality painting products that are proven to stand the test of time. Contact us today for a free quote. We look forward to working for you!
Refresh and revitalize your home or business with the professionals at Byars Painting & Drywall Finishing.
We will help you get the results you're expecting!
Interior
Exterior
Residential
Light Commercial
Fences, Decks & Porches
Power Washing
Staining
Drywall, Hole & Crack Repairs
Wallpaper Removal